Full Day Perisaian Tour
Senaru water falls-Traditional Village of Karang Bajo – Ancient Mosque – Art Shop – Perisien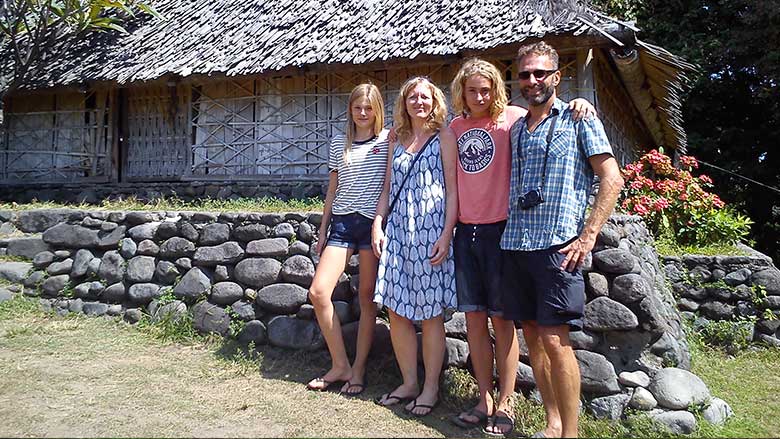 Right after you arrive at Karang Bajo (traditional village), your guide will take you to go around the villager's houses in that particular village, and he will explain about the activity, habit and the way of life of the people in traditional village of Karang Bajo. Traditional village of Karang Bajo consists of the Traditional Residence of customary officials or the stakeholders, they are Amak Lokak Gantungan Rombong, Amak Lokak Pande, Kyai Lebe, Singgan Dalem and Amak
Lokak Penguban. After taking a round at the traditional village, we will continue our journey to the Ancient Mosque of Bayan (20 meters away from the traditional village) in 20 minutes tour complete with the explanation about the history and the structure of the building of the ancient mosque, then we will enjoy the view of nature in the form of traditional fields. Ancient Mosque which is now used for ceremonial purpose for traditional ritual and as one of the evidences of history of Islam invasion in Lombok. Around the Ancient Mosque, there are some graveyards of the ancient figures such as the graveyard of Desanyar, Sesait, Reak and Titi Mas Penghulu.
After that we will continue our journey to Art Shop of woven cloth of Bayan Traditional Villagers. In this place you will be able to see the process of Bayan woven cloth making and about the function and history of the weaving process. We can also buy the handicrafts of Bayan Traditional Villagers as souvenir.
It needs 3 hours for us to visit the traditional residence, cultural sites and art shop. Then we will go back to the traditional village in which the top event of this trip which is watching Perisean art performance.
Perisean is one of tradition of agility contest between two men using rattan as bats and animal leather for shields. The contest is accompanied with the performance using traditional music instruments in order to make the contest more exciting. Perisean is played by professional from Lombok Island.
Presean
Presean fight is known as agility and manhood symbolism for the young men and Sasak men in Lombok. The Perisean fight is done by two men who hit each other using bats made of rattan called as penjalin by Sasak tribe. They are armed with shields made of cow's or buffalo's thick and hard skin called ENDE of which the shape is similar to one owned by Captain America. The player is called as pepadu. Sometimes, pepadu has their own nicknames as the appreciation of their achievement. The game led by one referee who is called as pekembar. There is also a game led by side referee who observe the fight who is called as pekembar sedi.
Both players or pepadu met in the middle of the ring, shirtless, wearing a headband called as sapuk (as the identity of Sasak tribe) and also particular sarung as the identity of each pepadu group. A stick made of rattan which length is approximately 1 m (penjalin) used as a bat is hold in the right hand, and the shield on the left. By this, the players or pepadu are ready to fight, watched by the spectators.
Supporting Art of Peresan Fight
Presean is accompanied with traditional musical instruments played by at least 6 persons comprised of two gendang, one petuk, one set of rencek, one gong and one seluring. The types of music (gending) played in the arena are:
Ngalokang music/gending (to stimulate the player's energy) which is played when the jury or pekembar is looking for a player or challenger from the spectators seat who is willingly have a battle in the arena.
Mayuang Gending (Ready Music) refers to a music played as a sign that the pepadus are ready to fight. At this moment, pekembar gives a signal to the spectators to cheer as a support for the players.
Fighting gending (fighting music) refers to a music played to cheer, to support and to increase the emotional atmosphere during the fight along with the screams from the spectators to support each pepadu. Each pepadu, within the fight, shall dance as the form of tease the rival.
Some essential factors above, whether it is the clothes, music (gending) and also the supporting art, is a form of distinction that agility and manhood contest art called peresean is not a street fight. Instead it is one of the cultural value and art that has a deep meaning and contain a cultural issue inherited from the ancient figures of Sasak tribe.

Senaru Waterfalls
Tucked away in the lower reaches of Mount Rinjani area a series of three dramatic cascading waterfalls providing a cool and refreshing alternative to trekking up the mountain . the spectacular Sendang Gile, the first waterfall, is a highly photogenic sight, surrounded by a lush rainforest canopy with water plummeting over 50 meters into deep freest water pools. It is the perfect sport for a refreshing dip. Sendang Gile is just a short walk from the roadside and by virtue of this is the most popular to visit, but there is more to see as you head further up. A 30- 50 minute trek further on will present a glimpse of Tiu Kelep waterfall, another captivating sight, which fills the clean mountain air with blowing mist. There is a nice bathing pool to cool down. Even further upstream, is Batra Lenjang waterfall which is a real hidden gem as it can only be reached with expert climbing skills. The few people that make is this far head straight for the nearby crystal clear hot spring to soothe those aches and pains.
History of Bayan Culture
The tradition of Bayan Culture was firstly formed from two religions. It was the fusion of Islam and Hindu. It firstly appeared since the entry of Islam in Lombok Island generally and the entry of Bayan specifically many years ago. The situation at that time was when Islam was not entirely believed and accepted by the society. At this moment, the army of Anak Agung (a Kingdom in Bali) came to Lombok bringing Hindu religion with them. One of the evidence of Islam civilization is the ancient mosque which is used as a place for Moslems to pray, yet when there is occasion of traditional ritual, this ancient mosque is decorated with banners like what Hindu does.

Traditional Village of Karang Bajo
Traditional Village of Karang Bajo is located at Karang Bajo Village, Kecamatan Bayan, Kabupaten Lombok Utara (North Lombok Regency), NTB. The people living in this village are still preserving their local wisdom and heritage such as traditional rituals, customary laws, local arts of traditions (custom officials), local games and their own traditional local activities.
The buildings still stands steadily in their local architecture where very building was established using the materials obtained from nature such as the roof which is made of reeds, its bamboo wall, and the un-tiled floor made of soil. Every custom official owns their official residence (called Bale Lokaq) of which each of residence has their own specific area for executing traditional rituals and has cultural sites which are well-preserved
Note:
Minimum booking 2 persons.
Tour duration between 8-10 hours
Get special price for group booking
Tour Guide can be requested, contact us if you want to request Tour Guide during the trip Time and Tourism site is subject to change based on your request.
Noted : (*) is required.
Guest Details